Welcome to Crush.pics!
(Video is not updated to new-design. Instructions are correct but visual aspects may be different)
Getting the App
Download the Covet.pics app from Shopify's App Store if you haven't already. Click Add App
--------------------
Selecting a Compression Method
1. After installing the app, the first thing you'll see is a page that asks you to select either the Lossless or Lossy compression method. Each method offers its own advantages and you can read more about them in this article. 
Balanced(Lossy) will compress up to 70% but might affect the quality slightly while Conservative(Lossless) will maintain quality and compress up to 30%. 
Note: You can select which types of images get compressed by the automatic method. If you only want to compress images that are live on your site or only product images, you can click the Change Compression Quality Level button and select that. See this guide
Select your compression method and click Next Step - Automation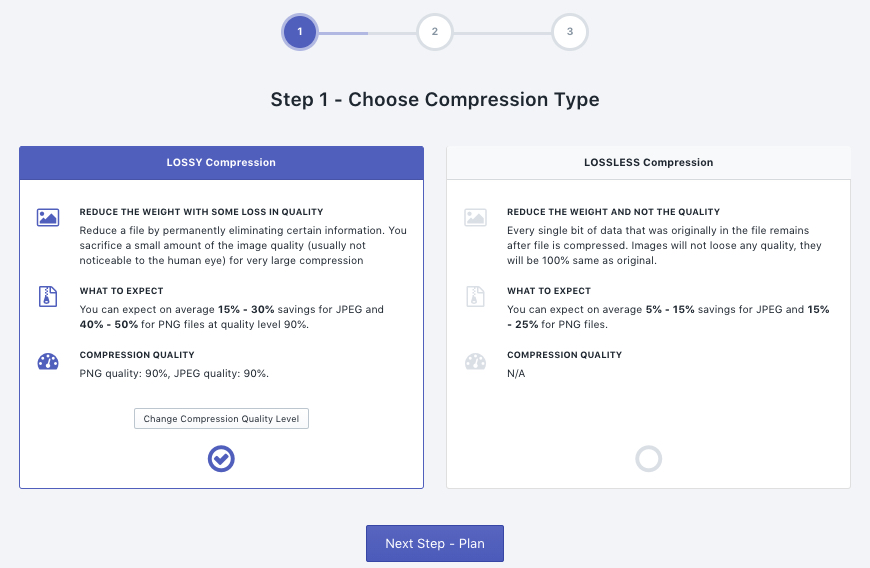 -------------------
Selecting a Plan
When selecting a plan you have to consider how many images your site has. If you have 2000 images at 300KB each, that equals about 600MB and therefore you would want to go for the Basic Plan which can compress up to 2GB a month. If you click Which plan is right for me? the app will suggest a plan for you based on how many images you have.
Your monthly plan gives you access to the compress values indicated and deleted or reverting images does not free up more compression space for that month.
You can also check out our Plan FAQ in this article.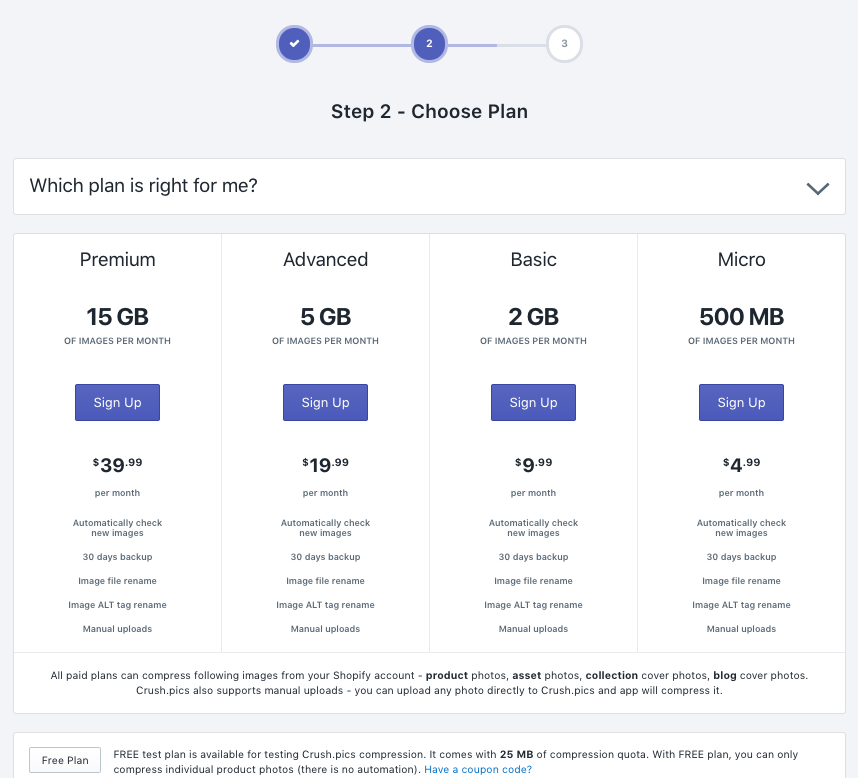 -------------------
Selecting your Automation Method
The next page will give you the option of either Automatic or Individual. 
For those who want maximum compression and want all images compressed, selecting Automatic will be the best option but it is only available on paid plans.
If you want to select individual images or use the free plan or try out the compression before doing your entire store, select Individual
You can read about the two options and how to change them later on in this article. 
-------------------
Getting to know your Dashboard
If you select the Free plan and are presented with a red Out of Quote message, then your site has more than 5MB of images to compress and you will need to look for an appropriate plan by clicking Upgrade Plan underneath the message.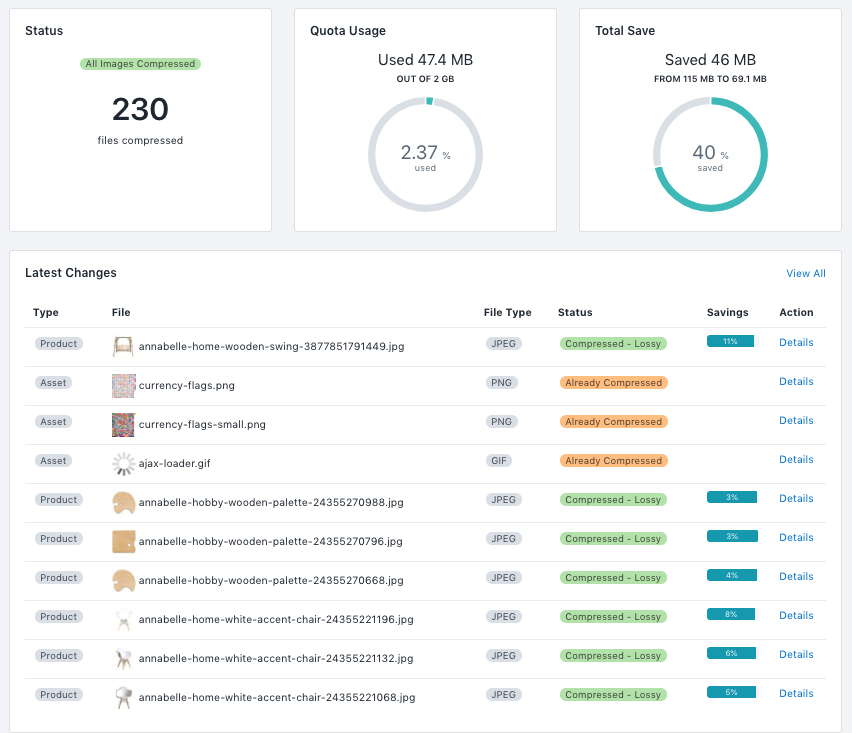 You can access image details and comparisons by clicking Details next to a specific image.
-------------------
Next Steps
If you selected the automatic mode and all your images were compressed or are in queue to be compressed, you don't need to do anything else!
If Individual was selected during setup, you can manually compress photos by clicking Details > Compress Image - as shown in this article. 
----------------------------------------------------------------------------