Customer Photos allows your customers to upload their own images to your Covet.pics gallery so that you can approve them and add a social aspect to your galleries.
1. Open Covet.pics and click Customer Gallery on the left menu

2. This is the area where you will see images that customers have uploaded
If they are not approved yet, they will appear grayed out.
Hover over the image to Approve/Hide images. You can also hover and click Edit to Tag Products and edit aspects of the post.

3. Click the Photo Requests tab
This will show you a history of any requests that were automatically or manually made.
You can also click the Create Manual Request button in the top right to send a photo request.
4. Click the Customer Photo Settings tab
This page gives you the opportunity to edit your email preferences, auto-approve/hide settings, and text for the feature.
The first section titled "Customer Photos - General Settings" gives you the option to upload images after your approval or automatically. Select Manual if you want to approve images manually or select Automatic if you want uploaded images to be visible immediately.
On the right is where you can select which galleries the upload widget will show up on.

"Customize Photo Upload Widget" gives you the option to change the text in the upload popup that will appear when a customer uploads an image. Click through the Step 1, Step 2, & Step 3 tabs to change all the text.

"Customer Photos Request Automation" lets you set up your automatic emails that will be sent to your customers. The drop-down with days is how long after fulfillment that the email will be sent.
You can also change the option in the Send Request dropdown to Disabled if you do not want to send automatic email requests.

Once this is all set, click Save in the top right corner.
5. (Optional) Include an "Add your Photo" square to your gallery
Open any gallery in Covet.pics and click the Customize Gallery tab.
Click the new Customer Photos tab on the left and you can add a square for customers to upload by selecting a position for it under "Widget Position In Gallery"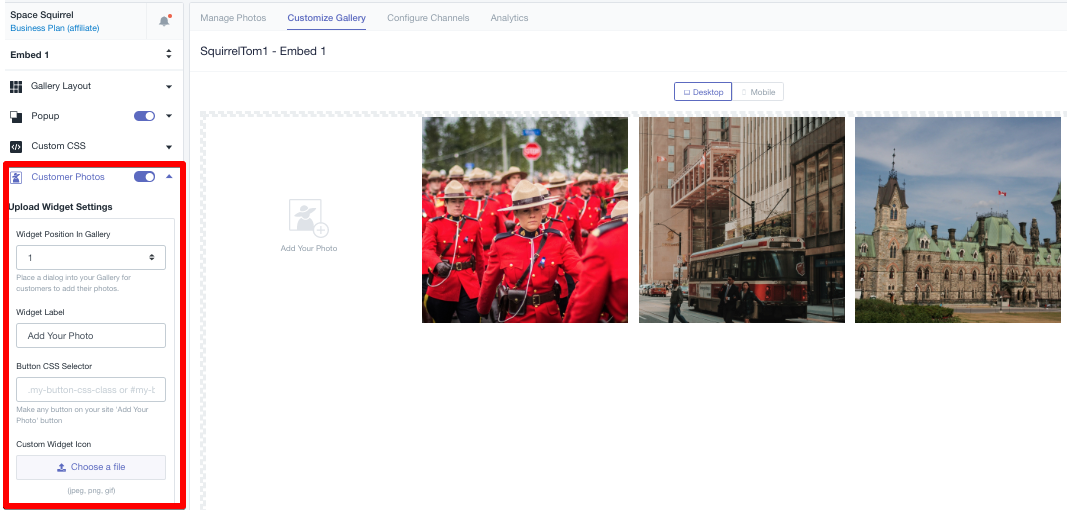 ------------------------------------------------------------------------------------------------

Feel free to reach out by emailing us at support@spacesquirrel.co