Can't find your question? Contact Us!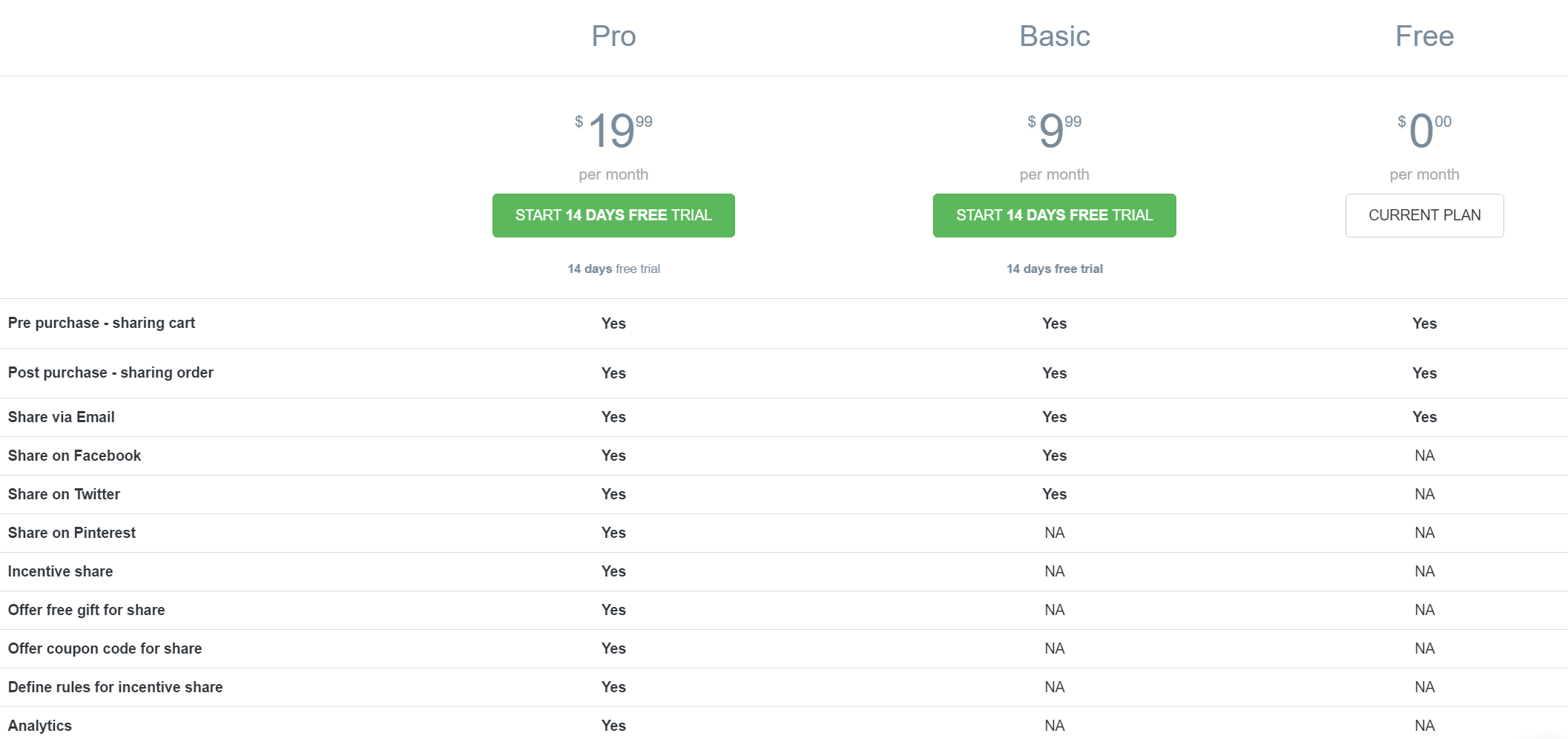 I installed the app but it's not showing up in my cart!
Simply click Settings in the top right corner of the app and click Yes next to Active and click Save. That will activate the app and get you started!
How do I enable Incentive Sharing?
Incentive shares are a great way to encourage customers to share their carts by offering them a discount or even a free product! It is only available on the Pro plan and you can try that for 14 days for free! Simply click Plans in the top right corner of the app and select your plan.
Do you add code to my theme? Where?
We don't install any code in the theme. We use a Shopify API to inject 1 javascript file in your store. If the app is removed, Shopify automatically removes that JS file.
How do I enable sharing on other sites - not just email?
This requires at least the Basic plan to do but you can try it for 14 days for free! To set up the other social media shares, click Settings > General > and select Yes beside the social media sites that you'd like to show.
I enabled the app but now my map doesn't show on the Order Confirmation page anymore!
No worries! The app automatically disables the map so that your share function is more visible to customers. If you want the map to show up still, go to Settings in the app, click the General tab and unselect the Hide Map on 'Thank you' page box and click Save.
How do refunds work?
If you are given a refund, it will be sent through Shopify's Billing system. Your refund will be sent to your Shopify account and is then managed by Shopify. It typically will stay as an App Credit and be applied to future app charges on your Shopify invoice. You can read more on Shopify's Help Center.
Do you have a partner or affiliate program?
Yes! You can read more about it and contact us regarding it by checking out this page.
When is support available?
We try and answer all support requests within a day but sometimes weekend support can take longer.
How do I uninstall and cancel the app?
We're sorry to hear that you want to discontinue use of the app - if you have questions or feedback, please contact us. To delete the app, go to the Apps section of your Shopify Admin and click the garbage can icon next to the app. This will stop any ongoing billing.
------------------------------------------------------------------------------------